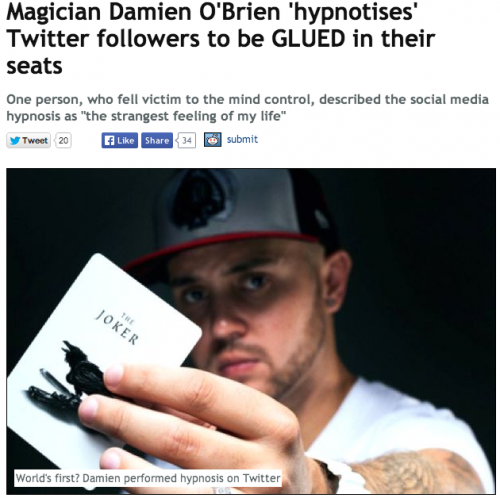 A magician 'hypnotised' his Twitter followers by making them feel STUCK to their seats in a spooky experiment.
Damien O'Brien performed the bizarre trick on 37,000 followers – with one person describing the experience as "the strangest feeling of my life."
The TV magician – whose followers on the social media site include Ashley Cole, Ed Sheeran and Vernon Kay – confessed the response and reaction to his trick was "insane."
Others taking part claimed their phone also felt glued to their hands and were encouraged to tweet – after later being unstuck – to post their experience with the hashtag #STUCK.
Twitter user @marcsamps wrote: "I thought it was a wind up. But it felt really strange…"
While another victim, @leemason1980, wrote: "That was the strangest feeling of my life. Heads well and truly mashed. #STUCK"
"Confused and impressed at how many people got #STUCK," wrote @deemonch.
O'Brien commented: "I was shocked at how many people were affected. It was a big risk as it's only a small percentage of people who can be hypnotised live.
"It was an amazing night and a great stunt I can't wait for the next one I have planned it will be even bigger."